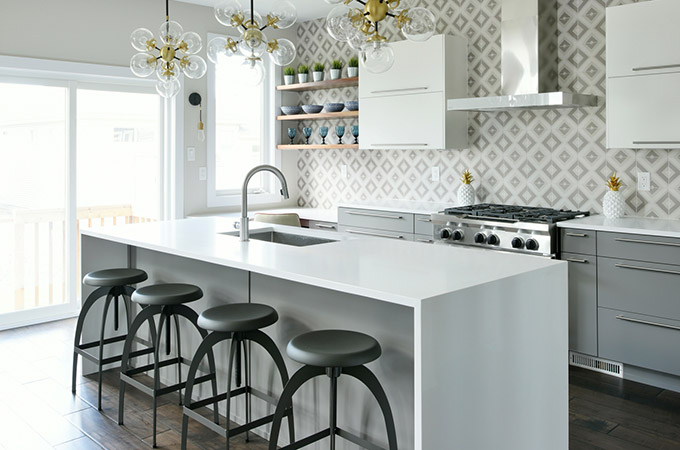 Open concept shelving deserves some serious thought. While kitchen cabinet door selection is obviously important, you should always consider open shelving an option. Continue reading below for some advantages of shelving concepts.
Accessibility
For the avid cook, open concept shelving offers the convenience of reaching for your spices, ingredients or plates when you are busy cooking. Additionally, an open style helps to display the items in your kitchen for both you and your guests. If you often forget what is hiding behind the cabinets in your kitchen, open concept is the perfect solution. For guests, open concept storage allows you to display your prized cookware or fine crystal instead of hiding it behind a cabinet door.
A Modern look
Open concept shelving paired with cabinet doors can help you achieve a balanced, modern design. Strategically choose where you will use cabinet doors and where you won't in order to plan your kitchen.
Choose your design
Open concept shelving can work in a lot of different areas of your kitchen. Adding shelving to your kitchen island allows you to store cookbooks, bottles of wine, or dinnerware that you want to be easily reachable.
Single floating shelves can be used in kitchens, bathrooms and even mudrooms. These can hold essential items for your daily needs. Displayed in picture; transitional bar/serving area provides extra storage from your kitchen to your dinning room.
What about glass cabinet doors?
For those who don't want to commit to an open concept design for their storage, glass cabinet doors can offer many of the same advantages. Glass cabinet doors allow your kitchen items to still be stored safely while allowing for easy viewing. They also allow you to contrast your kitchen cabinets so that the style is not all the same. This provides a lot of visual options for your kitchen design.