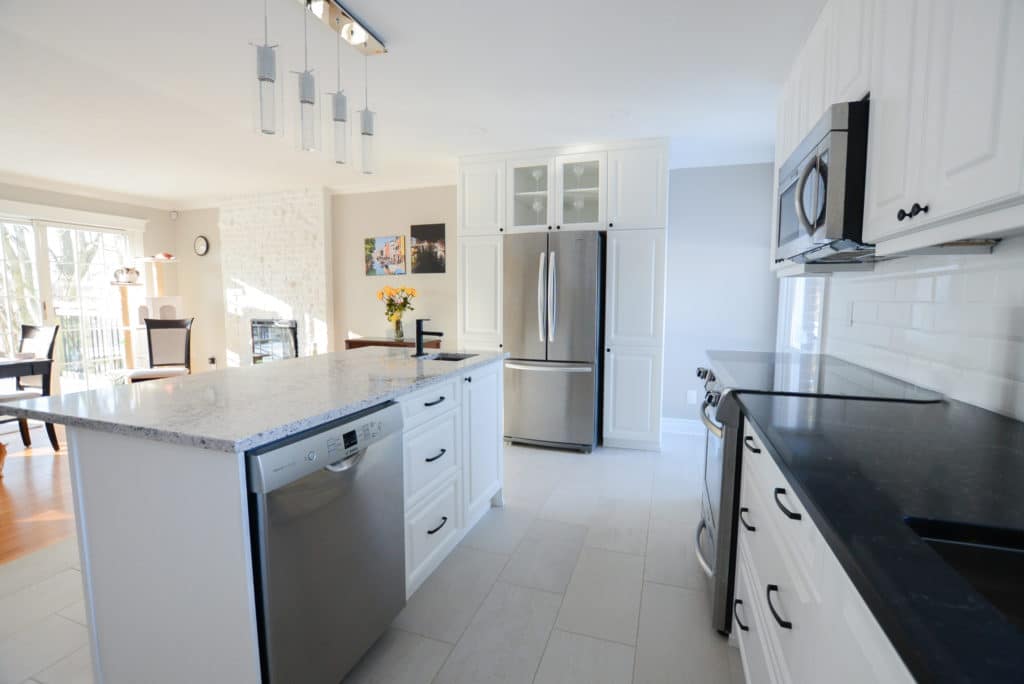 Kitchen lighting requires some planning based on the size and number of focal elements. Your  lighting plan will always depend on how large your kitchen is, and how many focal elements you have. Let's explore some basic principles below so that you can develop some lighting ideas for your future kitchen renovation.
Major Kitchen Light Styles
There are four major styles:
Pendant
Under cabinet
In cabinet
Recessed
Most kitchen lighting use more than one style depending on functionality.
Pendant lights
Hanging above your kitchen island, pendant lighting is a great way to provide a unique fixture in your kitchen that is also functional. While oversized pendants are trendy, make sure to pick the right size for your island's dimensions. It can be very hard to carry on a conversation around the kitchen island if your pendants are low hanging and oversized.
Under cabinet lighting
Under cabinet lighting can be hidden by a valence that matches the color of your cabinets. Under cabinet lighting is also great to set a mood when you don't want to illuminate the entire kitchen. Types of lighting can vary from puck lights to lighting strips and can be dimmed and used as a night light.
In-cabinet lighting
In cabinet lighting is a great way to display your decorative items. In-cabinet lighting can really bring your storage areas to life when you use glass doors or open concept shelving.
Recessed lighting
Recessed fixtures can be your main source of lighting in your kitchen and other areas. LED lights can work well and save you money on usage and longevity. These fixtures can be dimmable and provide a large amount of direct lighting for large and small space.
How many lights do you need?
This is a question best answered by your kitchen designer. An experienced designer can walk you through the lighting needs of your kitchen depending on the size, the amount of countertop prep stations, the size and dimensions of your kitchen island, and the available space on the walls.
Additionally, they can recommend other areas where lighting might really bring your kitchen to life, including in-cabinet lighting, recessed lighting, and dimmable switches.
Make sure to check your lighting plan to ensure that you have enough lighting for the space. Nothing is worse than a dimly lit kitchen where you can't see the beauty of the countertops and the fixtures. Spend some time on your lighting design and it will pay you back for years to come.