Your kitchen provides a sanctuary of comfort in your home; a daily escape. It is a place of gathering to connect deeply with our food, with our families, with our friends – and ultimately with ourselves. It is where you begin your day with morning thoughts, topped up with a second cup of coffee or green tea before you greet the world. It might even be your Zoom background from time to time! It is the quintessential heart of the home, and therefore requires some thoughtful and functional design best suited to your lifestyle. Before you begin any kitchen renovation though, you need to ask yourself what mood you would like your dining space to evoke. What intentions should the colours suggest? Is it a luxurious and luminescent light kitchen you've been dreaming about to create culinary masterpieces in? Or a darker, cozier atmosphere to enjoy countless hours of cooking and grazing? Should it echo a sense of hospitality, and a sense of calm too? Perhaps you'd prefer a casual eating space, or alternatively, a more formal dining area to share your daily bread in, with or without gluten. Before you begin, is a good idea to sit down with a pen and paper to map out the pros and cons of dark versus light kitchens, since it often sets the tone of the home. Cabinetry can make all of the difference. The question is: what end of the spectrum do you fall on? Do you prefer lighter neutral tones when it comes to your kitchen cabinets? Or more colourful and vibrant hues that add character? Perhaps you love dark, sophisticated tones that emulate richness. No idea what you want? No problem! We can help you make the right decision on one of the most critical upgrades to your home: the kitchen. Our team of interior design and kitchen renovation experts have been proudly serving the Ottawa-Gatineau area since 2008.
There is much to contemplate when deciding what shades to go with. Here are some helpful guidelines, including the pros and cons of dark versus light cabinets, so you can create the perfect custom kitchen designed for everyday life. 
Dark Cabinets Create A Rich Atmosphere, While Light Cabinets Open Up A Space
Dark kitchen cabinets can really be a showstopper. There tends to be more colour options to choose from, too, allowing self-expression and creativity to shine through. Bonus? They hide the grime, dirt and fingerprints better than lighter hues.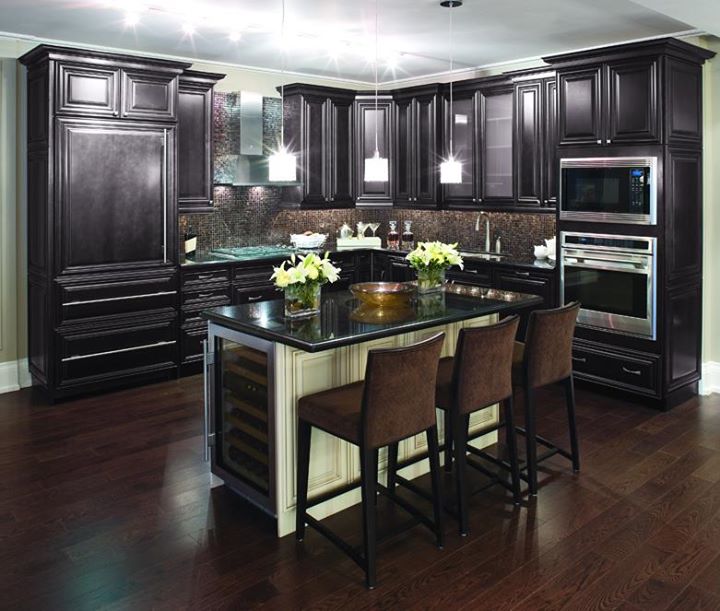 Image Courtesy of Gordon King.
On the contrary, white kitchens are very popular for good reason. Light cabinetry remains timeless, elegant and can really create an open and welcoming environment by offering a zen mood, and visually expanding the space. The downside of pure white kitchens and lighter cabinetry can be equally unforgiving at times. Do you have children? Translation: do you expect wear-and-tear in the coming years?  These are important factors to consider.  Lighter hues will show discolouration, and wear-and-tear (especially finger prints and grime!) more so than darker colours.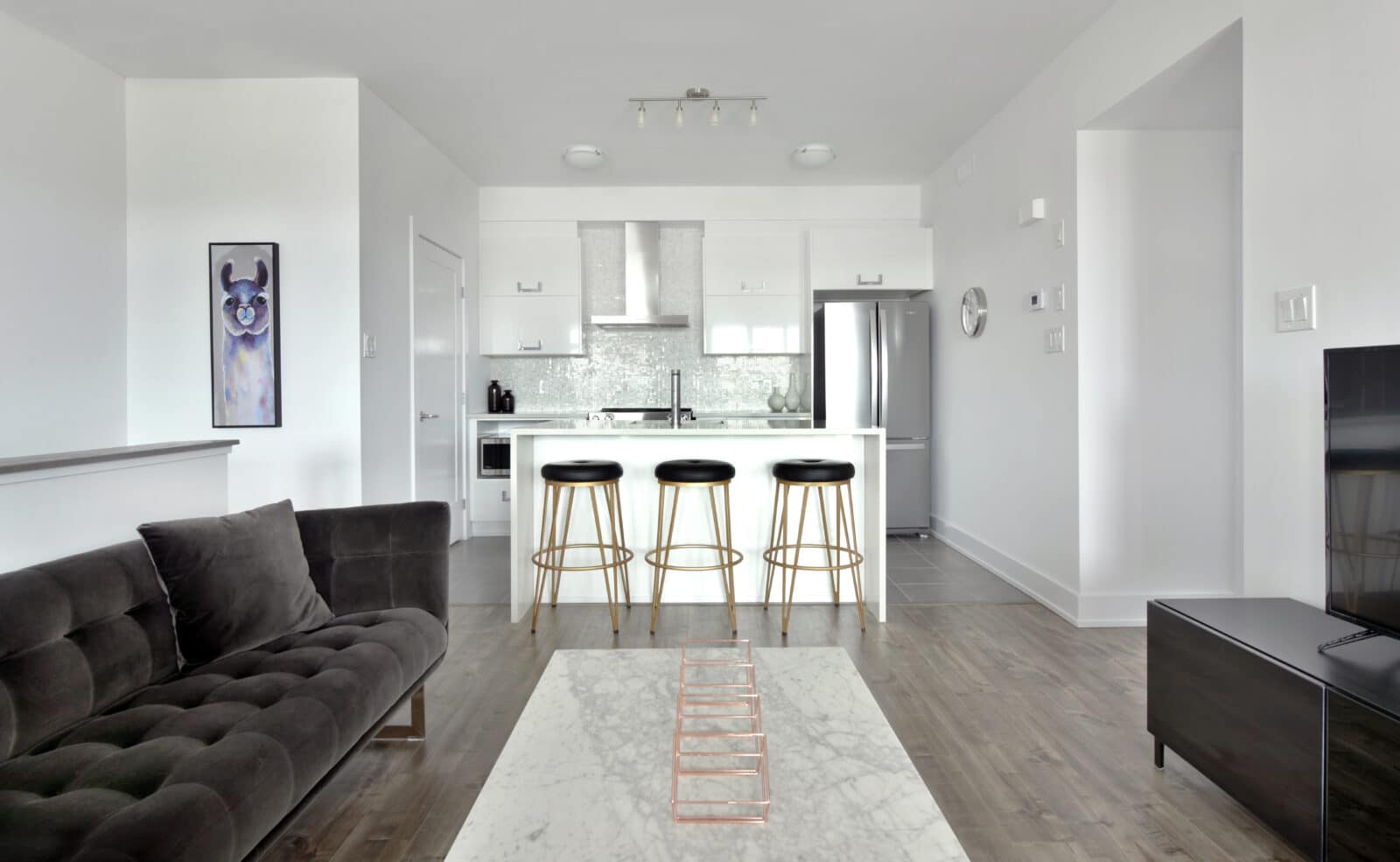 White kitchens are very popular. They can really expand a smaller space, add elegance and resale value. Image Courtesy of Gordon King.
Keep in mind that drastically dark and extremely light colours (including the purest of pure whites) will vary in their everyday appearance. Much like cars, really dark and really light cabinets will show every little scratch. If you're particular about these things, ie. obsessive about the perception of cleanliness of your kitchen, or maintain a busy schedule most days, perhaps extreme colours are not ideal in your kitchen.  
Another thing to consider is your commitment to the house: how long do you plan on staying there? If you're planning on flipping or selling your home sooner than later, our design experts recommend picking medium / neutral colours. Think beiges and greys – colours that will camouflage easily with most furniture and decor to suit a variety of tastes. By choosing lighter, more neutral tones you can achieve a classic yet modern appearance while adding real estate value to your home.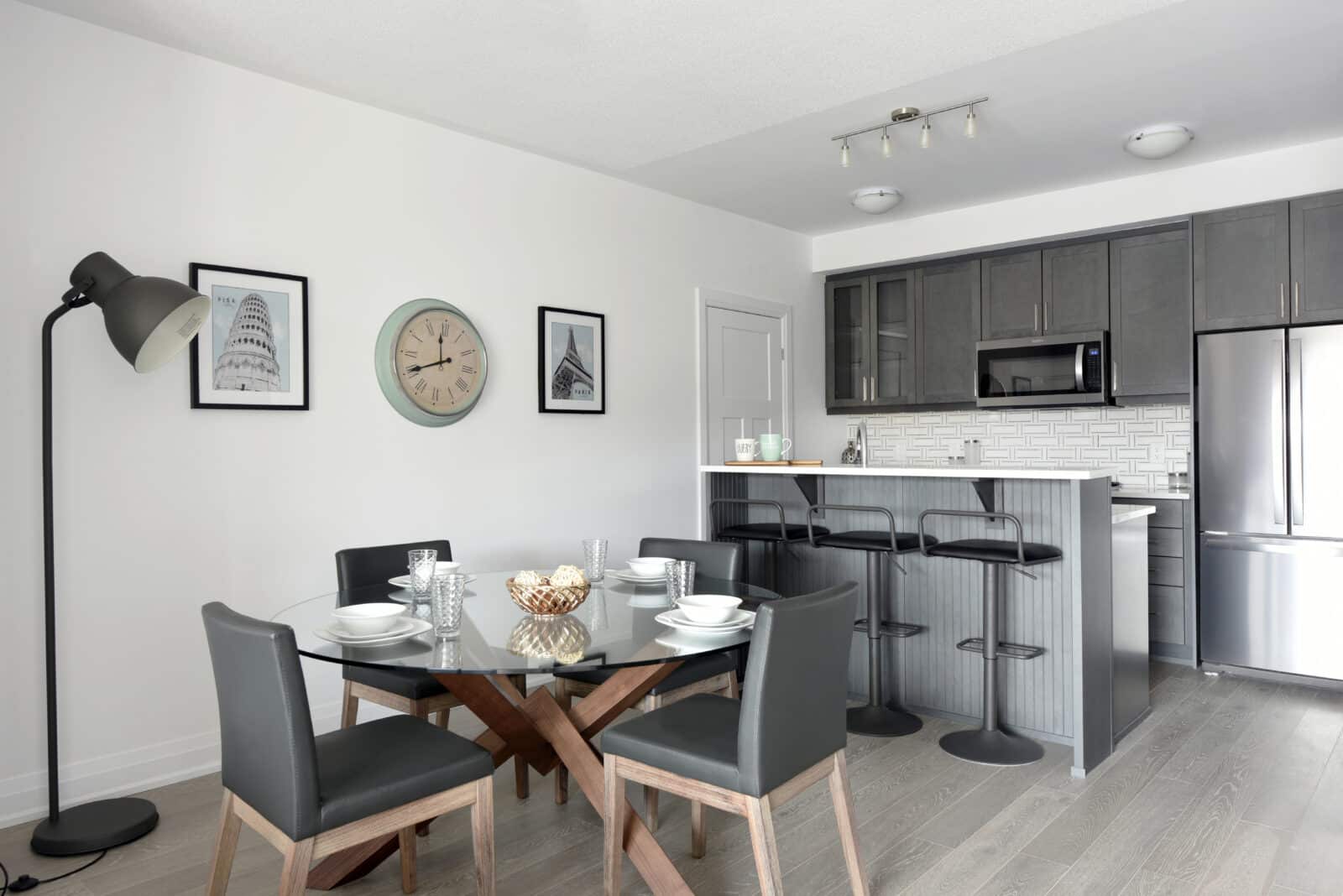 SIZE MATTERS: Lighter Cabinets For Small Kitchens 
In smaller kitchens, our designers encourage the use of lighter cabinets to expand the perception of space. Dark cabinets in a smaller space have a tendency to close in the room, giving it a heavy feel. Dark-on-dark cabinetry, in particular (both top and bottom) is not recommended as it often capsizes the room – making it feel much smaller than it actually is. 
If you really dig dark cabinets, 'two tone cabinetry' is a swift compromise. This is a design hack where light and dark cabinets are mixed together, adding more texture and character to a room without feeling claustrophobic, or boxed in.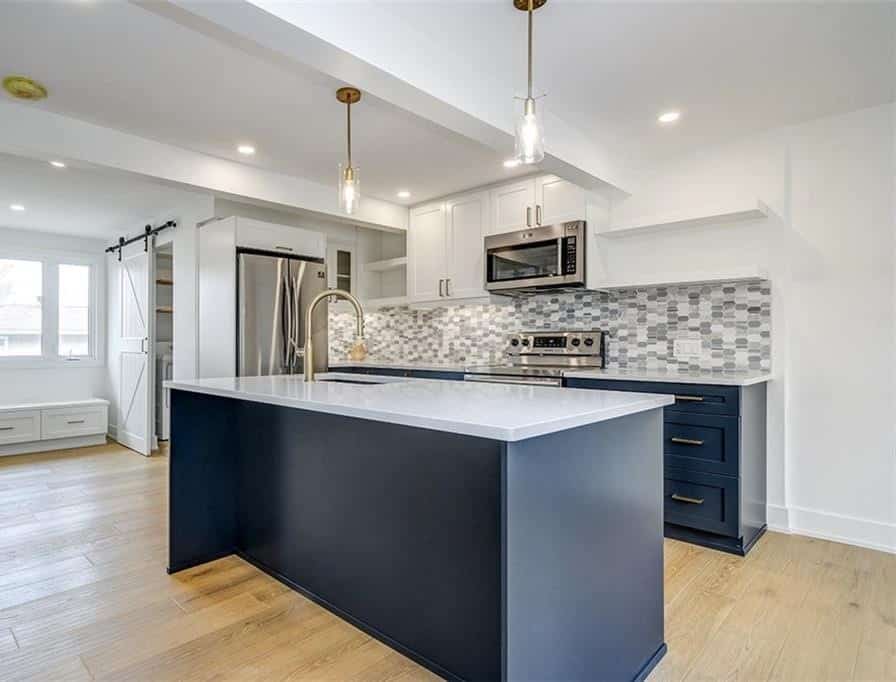 Lighting Will Change The Appearance: Light Reflects Light
One thing to consider for both light and dark options is lighting. Lighting will transform any kind of cabinetry in profound ways – highlighting positive and negative attributes. You can read up on one of our past blogs dedicated entirely to the basics of Kitchen Lighting. (It's worth the read for a quick tutorial before deciding to go with light or dark kitchen cabinetry.)  Choose from pendant lighting, to under or in-cabinet lighting, and recessed lighting options to make your new kitchen shine. 
Whether you know exactly what you want, or don't know where to start, we've got you covered! Book a free consultation with one of our designers here.