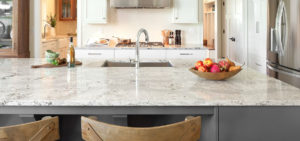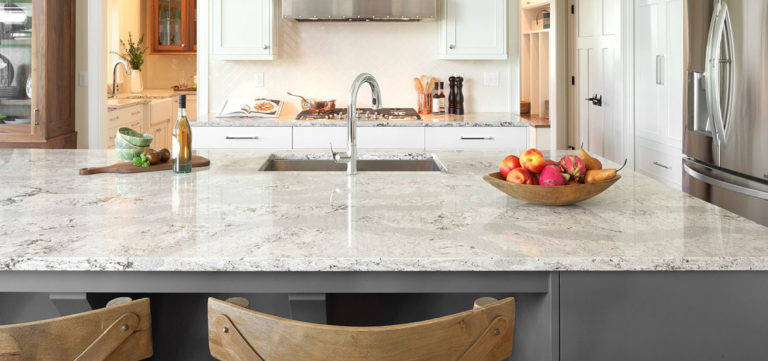 One of the most common questions we hear from customers regarding their kitchen countertop selection relates to whether they should choose quartz or granite. These two countertop materials are often confused and many believe they are basically the same. Let's take a look at some of the basics regarding these materials so that you can make a more informed choice when you are performing your kitchen renovation here in Ottawa.
Quartz Countertop
Quartz is a material that is man-made by a manufacturer and put together with a combination of ground quartz, a color pigmentation, and a resin to bind it all together. The color pigmentation that is added allows quartz to be offered in a variety of colors and this gives it an advantage for customers who are looking for a specific color in their kitchen. It also allows the color to be more consistent throughout the slab. Since countertops act as a focal point in the kitchen, especially if there is a kitchen island, the color selection can make a big difference in the look and feel of the kitchen space.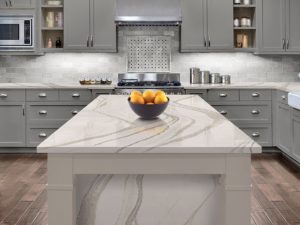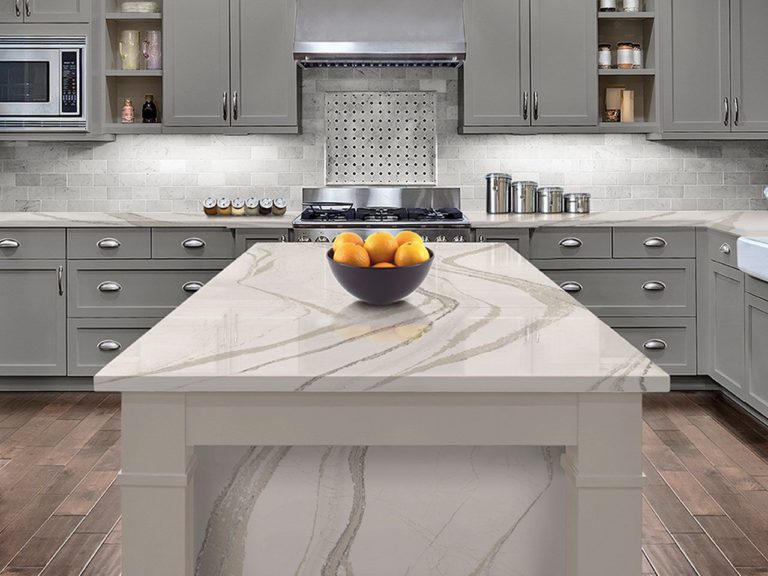 The engineering of the quartz also can produce distinctive looks, with a flecked style being the result of coarsely ground quartz, and a smooth and uniform style coming from finely ground quartz.
Quartz is also a very durable material. It is stain-resistant and non-porous and this means no sealant is ever required. As such, it is easier to maintain than granite.
While staining agents (such as red wine, tomato juice or tea) won't be absorbed into the quartz, they can still leave a lasting impression if they are not cleaned up quickly. This is because certain stains can discolor the quartz if proper care is not used once they spill. So, while quartz is more stain-resistant than granite, this doesn't mean it is wise to leave spills on the countertop for long periods of time.
Granite Countertops
Granite is a natural stone that boasts a variety of advantages, including scratch resistance and heat resistance.
In terms of visual appeal, each slab of granite is unique since it is cut from natural stone. This means your kitchen will have a one of a kind, natural look when you use granite.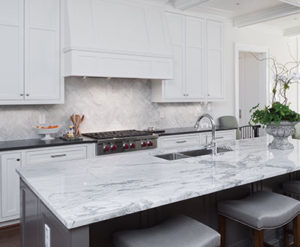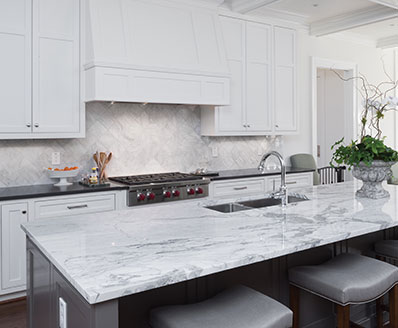 For colors, granite is available in a wide variety of colors but less selection than quartz, since the pi
gmentation in quartz is added and any color can be purposefully selected. Despite this, granite still offers a wide enough color selection to please most homeowners.
Additionally, customers should know that granite is porous and can stain if proper care is not taken. Granite countertops will always start with a sealant applied and they must be re-coated again according to manufacturer recommendations (usually in the time frame of every 6 to 24 months).
While this is an extra step of maintenance, the sealant will protect the natural stone from staining as the liquid will sit on top of the sealant and not absorb into the stone. Again, this doesn't mean you should leave red wine to sit on the countertop overnight. But it does provide some peace of mind for your investment to know that the sealant, if properly applied, will protect your countertop for years to come.